News
Monday, July 6, 2020
In the spring of 2020, MER was recognized by the United States Coast Guard with a highest performance rating on a recent response for its partner, Jacksonville Spillage Control (JSC), north Florida's member-owned oil spill prevention and response cooperative. MER serves as the JSC's contracted Oil Spill Removal Organization (OSRO). Click here to learn more...
MER is a nationally recognized OSRO with both Mechanical and Non-Floating Oil classifications under the USCG. Through actual events and exercises that MER performs on an annual basis, MER helps JSC membership meet the federal requirements under the Oil Spill Pollution act of 1990. MER also manages its OSRO program by participating in the National Preparedness for Response Exercise Program (NPREP).
---
Monday, May 18, 2020
In May 2020, Moran Environmental Recovery (MER) delivered COVID-19 preventative cleaning and decontamination training to employees and management teams at Seastreak in response to COVID-19. The program is tailored to Seastreak's specific business to ensure they are equipped to deliver the safest possible travel experience for customers. Seastreak provides commuter ferry service to and from Manhattan and New Jersey, as well as sightseeing cruises and tours. They also operate a seasonal ferry service from New Bedford, Massachusetts to Martha's Vineyard and Nantucket. COVID-19 has caused ridership on the Seastreak ferries to be significantly reduced. With fewer passengers, there is less work for its employees. MER's customized cleaning and disinfection training program enables Seastreak employees to gain new knowledge and skills while staying engaged in the workplace during the slow period and keeping their vessels clean and ready to welcome customers back. Read Seastreak Safety Measures

MER crews perform critical cleaning and decontamination services for major utility, rail, government, commercial, and marine clients throughout the East Coast and Midwest. We are a full-service provider specializing in routinely performing Industrial Cleaning, 24/7 Emergency Response and Hazardous and Infectious Waste Management and Disposal. MER has extensive experience and expertise with contamination and contagion services and follows all protocols based on guidelines from the Center for Disease Control and Prevention (CDC). MER's COVID-19 response services include planning, decontamination, disinfection, disposal, and commercial facility cleaning. We are committed to providing safe, effective solutions during this time of critical need.
To learn more about Seastreak, visit Seastrak Ferries

To learn more about MER's COVID-19 services click here...
---
Saturday, June 6, 2020
June 6, 2020
Team,
Over the past several months, I've tried to provide regular updates regarding the on-going coronavirus pandemic, in order to let you know what the company was doing to ensure the safety and health of our employees, and alleviate the financial uncertainty being felt by all. In the past ten past days, another event has dominated the news cycle, and it has captured the nation's attention. As important as continued awareness and diligence in managing through the pandemic continues to be, it somehow seems a little less important this week.
No one can look at the video images of George Floyd's death and not feel a sense of disgust. The incident itself, as well as the implications of the larger issue that it amplifies, have awoken the country.
I've always found it difficult, as the leader of an organization, to balance the voicing of my opinion on some important social issues, and that is because it is neither my job nor my right; to dictate how our employees think during these times. What is important to some, is less so to others. Unfortunately, there is no shortage of social injustices or noble causes in this world, and each is perceived through the lens of individuals. Some see what others do not.
But in this case, I hope I can speak not only for myself but for every employee in our company: MER categorically denounces any racial profiling, discrimination, or oppression of individuals, in any form.
This company is based upon four Core Values, and one of which is Mutual Respect. I always say that it is the most important value we have and is furthermore based upon the simple fact that no one person in the company is more important than any other. Yes, we all have different jobs, different responsibilities, and even different authority levels. But we also all have equal rights to how we are treated, and how we express our opinions within the organization. We are a company of individuals, fused together with a common desire for Performance. More importantly, we are fused together by our belief in Mutual Respect.
Our company has always shone brightest during times of crisis. Whether it is our hardwiring, or just because it's the business that we are in, we seemingly always look back and are amazed at how the people within our organization pull together when needed. We are well-practiced at managing our way through natural disasters, emergency projects, or even the infrequent personal tragedies' that we have all endured. Storm management comes naturally to us but dealing with this type of "social storm" does not. So, I must draw from my experience and reinforce those actions with what my heart tells me to do. I always go back to fundamentals, and above all, try to provide some sense of stability, calm and empathy.
This incident has reminded us all of the need for conversation, both on a societal level, as well as a personal level. We are all trying to process what is happening in our own minds and are frustrated to find the right answers. For me, it's been with my family, my friends and people within the company. I encourage you all to do the same and to not be afraid to talk with your "MER family" for support, understanding and healing.
So now, I would ask that we all think about what we can collectively commit to as an organization:
Support one another. Embrace Mutual Respect. Have empathy for anyone who has feelings of suffering from injustice or suppression.
Educate ourselves on the issues that exist. We have a platform in front of us at this very moment. We owe it to ourselves to understand its underpinnings. Take this as an opportunity to reflect upon other social causes that are also important to you.
Be aware of what is happening in our own communities. Ask what we can do to advance the values of equality and humanity.
Examine our own lives and do what we can to help build a society that recognizes the value of all people. Make a difference.

This has been a tough week in an already tough year. We've used the word unprecedented already this year, and we continue to operate in uncharted waters. What is happening affects us all, and in the end, I am asking us all to take a renewed commitment to our Core Values, and specifically Mutual Respect. Perhaps more than anything else, this is a time for understanding, and that begins with conversation. Our open-door policy encourages honest and frank discussion, even if it is sometimes uncomfortable. It makes us a better company and helps drives our culture. My commitment to you is to listen and to support our efforts to strengthen diversity and inclusion across our organization. All MER employees must feel safe, heard, respected, and valued.
As always, I thank you for your continued hard work and dedication.
Brian
Brian J. House
President and Chief Executive Officer
Moran Environmental Recovery, LLC
75D York Avenue
Randolph, MA 02368
Main: 781-815-1100
---
Saturday, October 19, 2019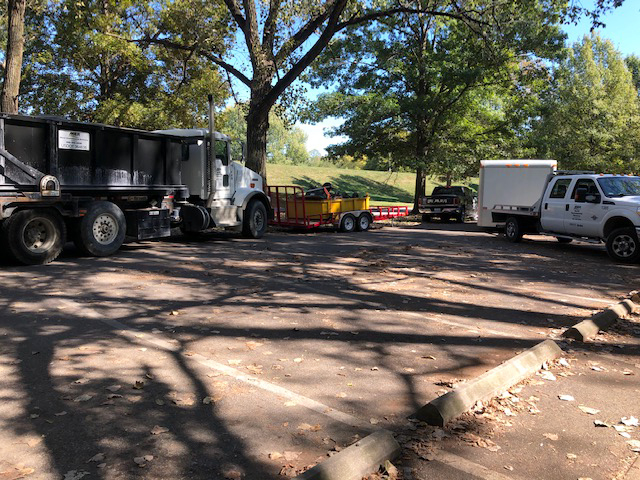 The team at our Louisville, KY office held an environmental clean-up day at The Falls of Ohio State Park in Clarksville, IN this past Saturday, October 19. Nearly 50 tires, numerous plastic drums, and many large and small miscellaneous items were dug out and disposed of. MER provided both large and small-scale tools and equipment to safely remove, transport, and dispose of the waste collected.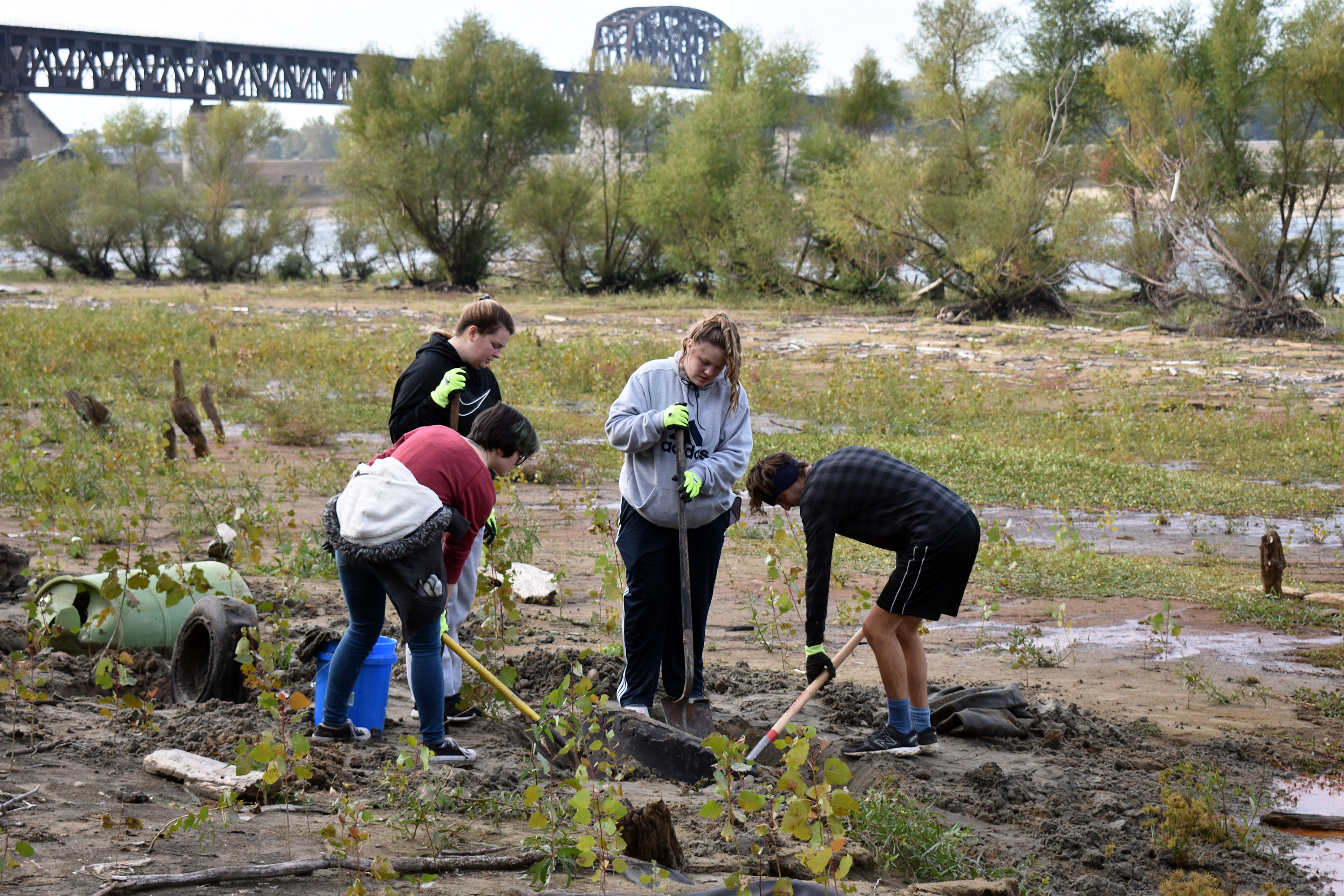 The Falls of Ohio State Park, located in Clarksville, IN, and neighboring Louisville, KY, is the largest naturally exposed Devonian fossil bed in North America. The Falls were designated as a National Natural Landmark in 1866 and named a federal National Wildlife Conservation Area by the U.S. Army Corps of Engineers in 1981. In recent years, the Park has fallen victim to environmental degradation due to careless disposal of waste, empty drums, tires, glass, and countless other items.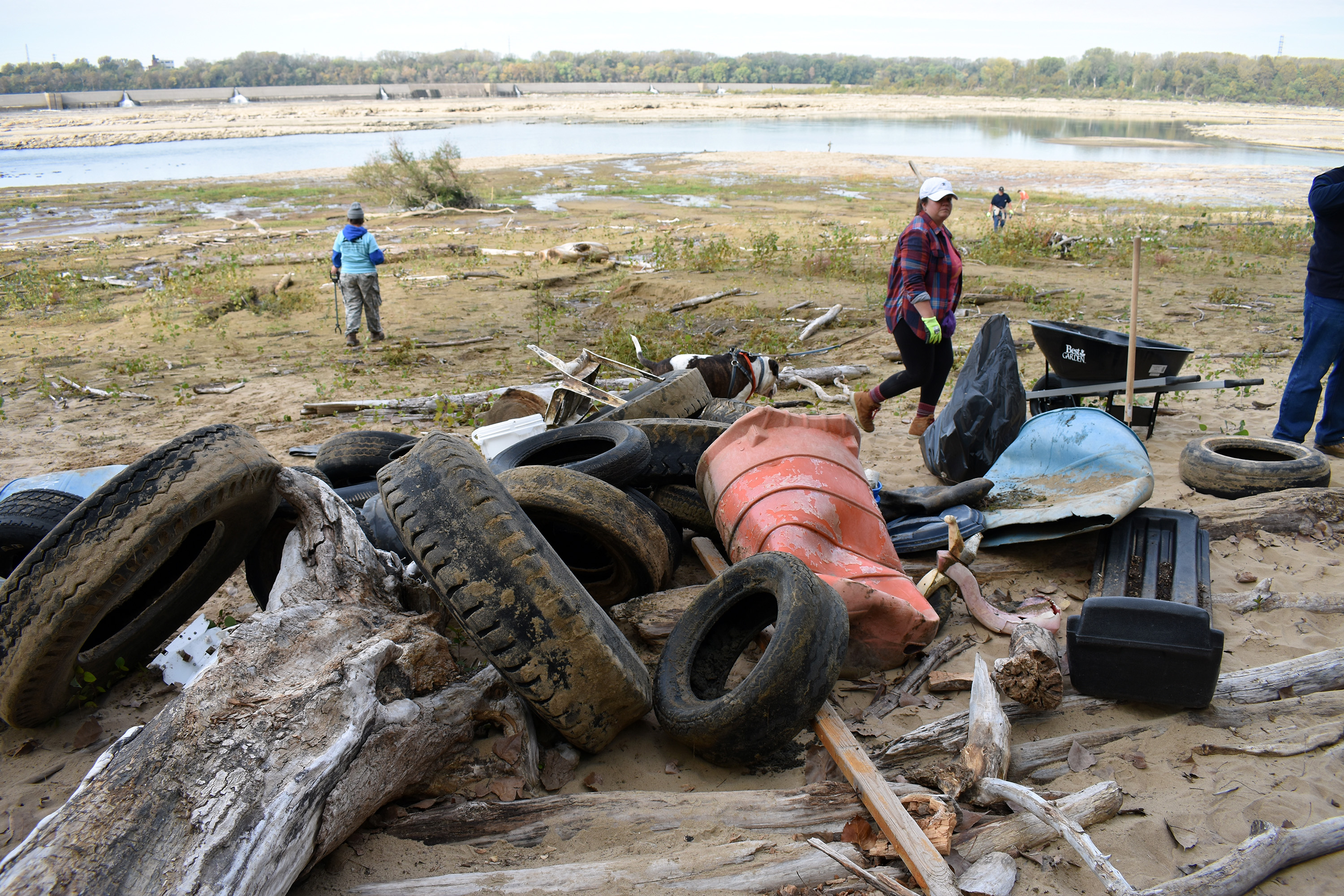 MER would like to thank the Indiana Department of Natural Resources and the Louisville Sustainability Council for their
support and participation, and all the community volunteers who came out to support this important initiative. A special thanks goes out to the group of students who participated from Indiana University Southeast!
By the very nature of our business, we consider ourselves to be
stewards of the environment. We commend Environmental Compliance Specialist Samantha Troutman, and the entire Louisville team for their passion and leadership in this effort.
---